Samsung and Red Hat are committed to working together on software development to make the most of emerging memory technologies.
The Korean giant points out that a bunch of storage and memory technologies — NVMe SSDs, Compute Express Link, the combination of high-bandwidth memory and in-memory processing, and data structures — all need a enabling software to work well with the kind of demanding applications they are meant to enable.
The technology is likely to be used at different levels, while memory sharing between devices is well and truly on the agenda as part of a new push for composable infrastructure.
Hardware vendors don't just throw devices over the fence and wait for an ecosystem to form. They typically engage with major platform and application vendors early in the product design process to ensure their products will work in the real world.
So it's a little surprising that Samsung's announcement of its tie-up with Red Hat claims it's the first time the chaebol has teamed up with an open-source software team with the goal of "fostering market engagements." computer science".
As part of the relationship, Samsung will create an aptly-named Memory Research Cloud in which the two companies will "develop and verify software solutions on various server environments."
You, dear reader, might be invited into this cloud to test the best memory hardware configurations to drive your applications to peak efficiency.
Samsung says its Memory Research Cloud will be "an open collaboration hub" where customers can test combinations of memory software and hardware.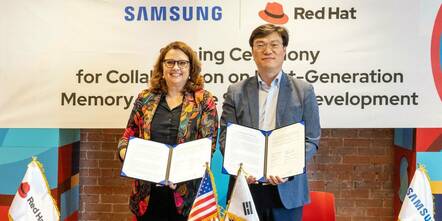 You can see it too, right? … Marjet Andriesse, senior veep and Head of Red Hat Asia Pacific, with Yongcheol Bae, executive veep and Head of the Memory Application Engineering Team at Samsung Electronics. Source: Samsung
Samsung said work with IBM's Red Hat will also be shared with other organizations, such as the Linux Foundation, to ensure "full support in Red Hat Enterprise Linux and with other open source software stacks."
What sounds a lot like Samsung wants this work pushed into the Linux kernel – where it arguably belongs, given Linux's dominance of the global server fleet. ®